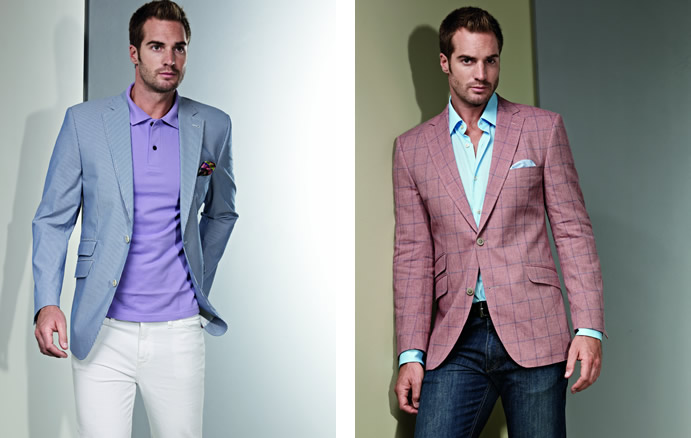 Carl Gross from Robert Smart in York
SPRING/SUMMER IMPRESSIONS 2011
Relaxed suit and jacket models with added value – visible in the fabric qualities, in sophisticated details or the inside finish – not only provide for an upgrade in the upcoming season, but also for a new, modern City look.
Lively, structured and voluminous fabrics give Modern Businesswear a sporty touch. New finishes and blends provide function and optimized comfort. This is why the three collection themes in the Spring/Summer 2011 collection, URBAN CASUAL, RELAXED CHIC and URBAN ELEGANCE, are primarily defined via fabric qualities offering special features and finish.
"FABRICS WITH CHARACTER"
The theme URBAN CASUAL is characteristic of the new "relaxed wear". Here, suits for the summer come in cotton or diagonal structures with a soft feel and lightweight structures. Pale colours are in the focus. In addition to AMF stitching and inclined flap pockets, colour-coordinated elbow patches, undercollars with discreet colour base and integrated pockets lend the suits a sporty and elegant note.
As for the inside, slightly more contrast is preferred. Striped designs, contrasting edging ribbons,
inside pocket piping and sleeve linings lend value and emotion to the primarily half-lined models.
As for single jackets, summery linen and linen/cotton blends, double-face qualities and seersucker dominate the fabric range. Structure, volume and slightly crashed surfaces provide for innovation. The designs range from club stripes, reinterpreted in terms of colour, fineliners, pepita, herringbone, Prince-of-Wales check designs down to overchecks.
The modern jacket type is attractive thanks to deconstructed fits and soft finish. Inside reversed seams and overstitched sleeve heads are some of the features to this effect. Patch pockets with or without flaps, elbow patches (patched or inserted), sporty collar fasteners and undercollars in contrasting colours underline the sporty and casual look which is perfected by the golf pleat.
In contrast, there is the slightly more elegant jacket type. Slightly accentuated shoulders, inclined flap pockets including ticket pockets, contrasting or colour-coordinated buttons, and integrated pockets are characteristic features. Elbow patches and collars with colour base form are available as an optional range of features.
Whether sporty or elegant, the visual highlights are continued in the interior of both jacket versions.
Slightly more vigorous colours are chosen, which match the top fabrics harmoniously. Stripes and plain fabrics from the same colour range are mixed. Contrasting edging ribbons, piping and sleeve linings as well as inside pockets made of top fabric are indispensable details in this series.
The entire silhouette remains slim. The fashionable 2-button model continues to be the most important style.
The trousers tie in perfectly with the sporty look. 5-pocket versions and chinos with straight legs are available. Washed Pima cotton qualities play an important part. As for the interior finish, much attention has been paid to sophisticated details. Edging ribbons, a contrasting inside waistband or an unusual inner pocket lining emphasize the sporty look.
Colour range: from light beige shades to summer darks in brown shades, sober red and green as contrast as well as a wide range of blue shades
"INTELLIGENT AND FUNCTIONAL FABRICS"
Carl Gross in York RELAXED CHIC The new smart suit makes its appearance in upmarket and comfortable fabric qualities. Silk is gaining importance. Thus, wool/silk blends are characteristic fabrics used in this series. Increased elasticity and colour fastness make the new compositions for the Modern Business Segment so attractive. In addition to a luxurious touch, these blends are said to "breathe", thus providing for enhanced climate and wearing comfort. Important criteria for business suits. Pin stripes and minimalistic designs determine the suit collection. Function comes via fabric qualities, modernity via fashionable designs and scene-setting. Inclined flap pockets, integrated dress handkerchiefs and intricate inner lining designs are in the focus. The suit silhouette remains moderately slim and the fashionable 2-button model is omnipresent.
The single jackets within this theme signalize sporty elegance. The means to ensure this include double-face qualities in wool/linen blends, pitted wool qualities with fresco weave offering a good grip and silky wool. Here, too, new impulses, comfort and function are provided via intelligent fabric qualities. The designs are marked by coloured overchecks, stripes and herringbone. A newlydeveloped "rolling 3-button model" has been added to the 2-button versions.
Sophisticated interior compositions continue to play a superior part. Here, colours and contrasts are the name of the game. Up to three colour schemes – always matching the top fabric harmoniously, reappear in the jackets. Fine stripes are mixed with plain fabrics. Piping, edging ribbons and AMF stitching accentuate the look.
Details such as felt collars with colour base, elbow patches in mixed patterns, contrasting sophisticated buttons and interspersed tucks underline individuality and provide emotions. Colour range: from beige to brown and a wide range of blue shades.
"QUALITIES WITH TANGIBLE ADDED VALUE"
URBAN ELEGANCE completes the trends und tendencies for Spring/Summer 2011. In this theme, CARL GROSS presents suits, jackets, coats and co. with sartorial finish, uncompromising qualities and top-notch detail solutions. The series combines perfected tailoring with unobtrusive luxury and a passion for contemporary Modern Businesswear.
Premium qualities with tangible added value are in the focus. This is why fabrics made by the most renowned Italian weavers have been chosen exclusively for the suits. In addition to high-twist IWS qualities by Reda and Marzotto, washed wool qualities by Guabello, summery wool and linen blends by Subalpino and wool/linen blends with silk content by Vitale Barberis complete the fabric concept.
Finish and structured surfaces as well as volume come to the fore. Here, mohair looks, Délavé effects and slightly creped fabrics provide new impulses.
In addition to their fashionable appearance, most of the qualities, in particular the fabric range "Dream Wool", offer valuable functional features. Good crease recovery, climate and wearing comfort are the most important factors integrated in the design of business suits and jackets.
The designs of the business series URBAN ELEGANCE range from summery stripes via Prince-of- Wales checks and herringbone down to fine, elegant pin stripes.
The silhouette remains slim and fashionable 2-button versions are in the focus. Preference is given to traditional summer colours. The colours range from beige to brown, all shades of blue, and grey.
Inside, linings in light colours provide liveliness and contrasts. Striped designs are matched with plain fabrics. Inner pockets with piping and edging ribbons accentuate the look. The integrated pocket rounds off the formal dress-code.
Classic business trousers as well as 1-button business coats complete the theme.
[wpsc_products category_id='257′ ]