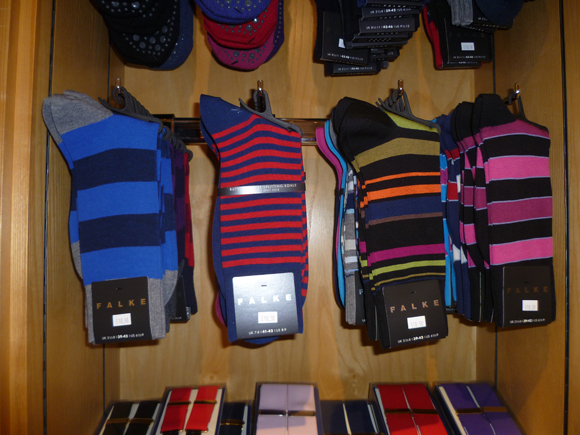 Robert Smart Menswear in York stock a wide range of Falke socks.
Founded in 1895 by Franz Falke, the Falke brand represents more than 110 years of tradition; a wealth of experience and a performance culture built by generations of talented individuals pursuing quality and innovation without compromise.
Falke has grown from a knitting business, producing two dozen socks daily, to a substantial grouping of textile and fashion companies, with over 2,500 employees worldwide and a turnover of 195.5 Million Euros.  Based in the German Sauerland region, the Falke Group produces men's ladies and children's knitted socks, ladies fully fashioned stockings, tights and bodies, menswear and other textile products, which are now exported to more than 30 countries.  In addition to the original headquarters built in the 1920's located in Schmallenberg Germany, Falke has factories in South Africa, Portugal, Austria and Hungary.
Falke is a premier international clothing and lifestyle brand and legwear market leader.  The Falke style is the perfect combination of technically superior products with the best of contemporary fashion – an approach that inspires enjoyment for life.
The same care and craftmanship, which distinguishes tailored clothing, is used in the manufacturing of all Falke socks.
The Falke LUXURY SOCK COLLECTION is made exclusively in Falke's traditional factory in Schmallenberg.  The effort is enormous, each sock is handled by at least 30 pairs of experienced hands.  As an example the No.4 100% Silk sock is looped and shaped by hand.  Only 3 specialists in Schmallenberg have the flair to hook up to 280 stitches of a fine silk sock in such a way that the seam in the front of the sock is completely flat and unnoticeable.  The results are a perfect fit and unbeatable comfort.  In order to ensure that the luxurious fabric remains durable and wearable, the areas of the sock that are most likely to wear thin such as the heel and toe are reinforced.  The particularly fine, highly twisted yarn that Falke use also contributes to the durability of the socks.