Robert Smart menswear in York have a new range of Fynch Hatton clothing available. High quality long-stapled cotton, finest lambswool, cashmere from Mongolia, linen, silk or Merino, on top of all that the craftsmanship right down to the perfect fit. Each and every part of a pullover is knitted to form and linked by hand with an eye to "detailed quality and workmanship".
The name Fynch–Hatton® stands for premium quality.
The Fynch Hatton product range in our York menswear shop  encompasses everything – from Outdoor Tweed right up to Supersoft Cotton, from Premium Cotton right up to Pima Cotton Cashmere, from Sporty Polo Piquee right up to luxurious Interlock Sweat (NEW!) – all in trendy colours.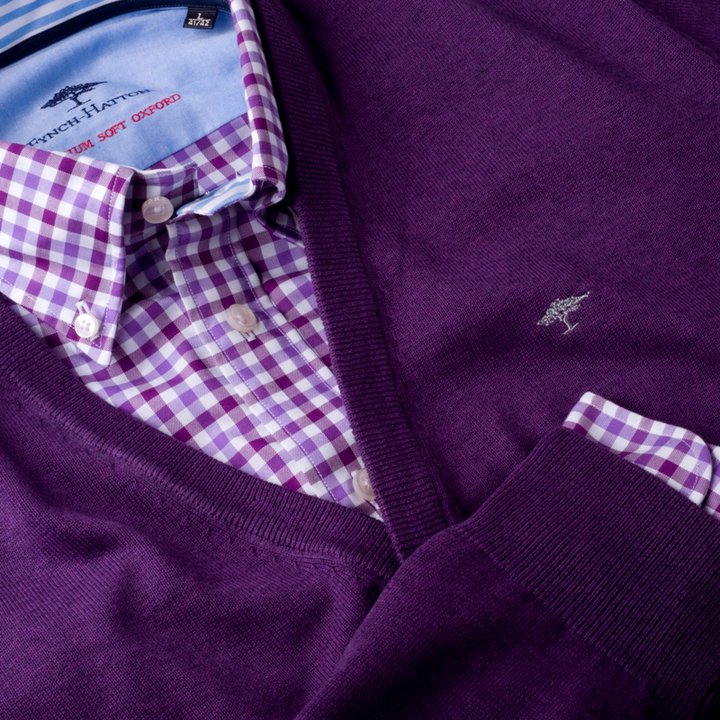 Casual pullovers and sweats  in lour York store in the spirit of the times and with personality.
Fynch cotton – Hatton York  ® only uses long-stapled and delicate US-cotton which distinguishes itself by giving the finished product an evenly knitted look and a subtle shine. Above that, our yarns are only dyed with certified dyestuffs, which are environmentally friendly and gentle to the skin. Our Supersoft Cotton is finished in a unique washing process developed by us, so that pullovers are especially soft with brilliant colours. Fynch – Hatton ® lambswool York  is soft and cuddly, as we only use the finest wool, with an average fibre between 19 and 21 thousandths of a millimetre. In addition, we take long-fibred wool, from which we have the yarn highly spun according to our specifications. These yarns are especially smooth and less prone to pilling.
Fynch–Hatton® lambswool York is easy-care and smoothens out again under the influence of warmth and moisture. This is why a standard delicate machine wash programme saves washing by hand.
Cashmere jumpers and pullovers at Robert Smart Menswear York.
Cashmere clothing York is elegant and light, and at the same time soft and warming. A cashmere pullover from our York shop  is just like an air-conditioner: warm in the winter, pleasantly cool in summer. The fine air locks between each fibre work as ideal insulation and preserve warmth.
Fynch–Hatton® produces its cashmere pullovers in Outer Mongolia. This is where the best quality can be found, carefully combed from the stomach and chest regions of the Cashmere goat and spun into double-ply yarn. The pullovers are knitted to form and linked by hand. Pure cashmere crafted to perfection.