Oscar Of Sweden at Robert Smart York
Robert Smart in York sell a range of shirts in their Petergate outlet. Making a perfect shirt is a work of precision. Oscar of Swedens tailors, designers and engineers share a mutual task: Creating the perfect shirt. Starting in 1949, they have had time to overcome obstacles and correct mistakes. Simply to get it right.
It is still a challenge though. Perhaps it lays in the nature of this work, where everything changes all the time. So they stand humble before their task, and continue the work for perfection. Building from a foundation of genuine knowledge, we look forward to the 60 years to come.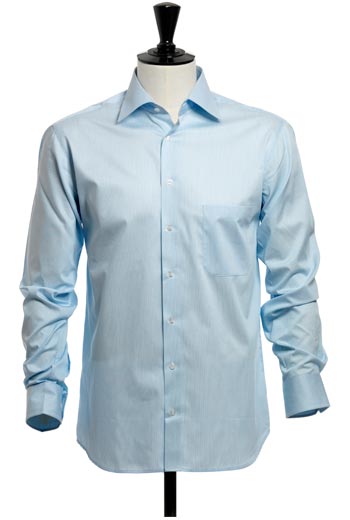 Oscar of Sweden shirts make a large variety of shirts, because we are crazy about them. To make it a little easier for you, we have categorized them into three labels. And within those, we offer three different cuts. The secret behind the non iron fabric is a treatment in two steps. The thorny cotton fibers are first smoothened and then linked together in a cross-link process. For you, the result is easy care as fibers straighten the fabric themselves. Also, the shirt stays smooth while wearing it during a long day. Or night. The fabric makes the two fold shirt our most exclusive. Twined threads woven together create an extraordinary luster. It is soft as silk and smooth to wear. The fine nature of the two fold fabric also enhances the cut of the shirt, making it look luxurious. You will surely feel the same. For those desirable leisure hours. The material and attitude of the casual label varies with the seasons. In the winter for instance, quite a few of the shirts come with thick flannel fabric, while in the summer it will be short sleeved linen shirts. And we tune the wash and patterns of the fabric for a genuine casual look. The choice for contemporary men. Our slim fit shirts leave less to the imagination. With just a few extra inches on each side of the waist, the slim shirt gives you a sharp appearance. But you will maintain freedom of movement, no worries. Do you want a little bit of everything sometimes? In that case, the fitted shirt is for you. It has slightly sewn in sides for a nice hint of your figure. But it does not sit tight. It might just be the perfect combination of casual and slim.
You feel relaxed, so why not give the impression of being it too? You are looking for an Oscar shirt with casual cut. It sits loose without appearing baggy or shapeless. The casual shirt makes you look comfy with style.
To assure that you look great even on hot summer days, a vast collection of our shirts are available as short-sleeved.
Oscar of Sweden is a family owned business. Founded in 1949, it was run from a small basement. With focus on only shirts it gradually grew larger over the years.
Owners (and siblings) Per and Eva Åhman started out early, pressing collars and cutting threads under their father's watch. They soon learned the necessity of putting consideration and thought into every part of the work.
Today, shirts are designed and developed in Borås, Sweden while production is placed in Poland. Top-quality fabrics are chosen from weaveries across Europe.