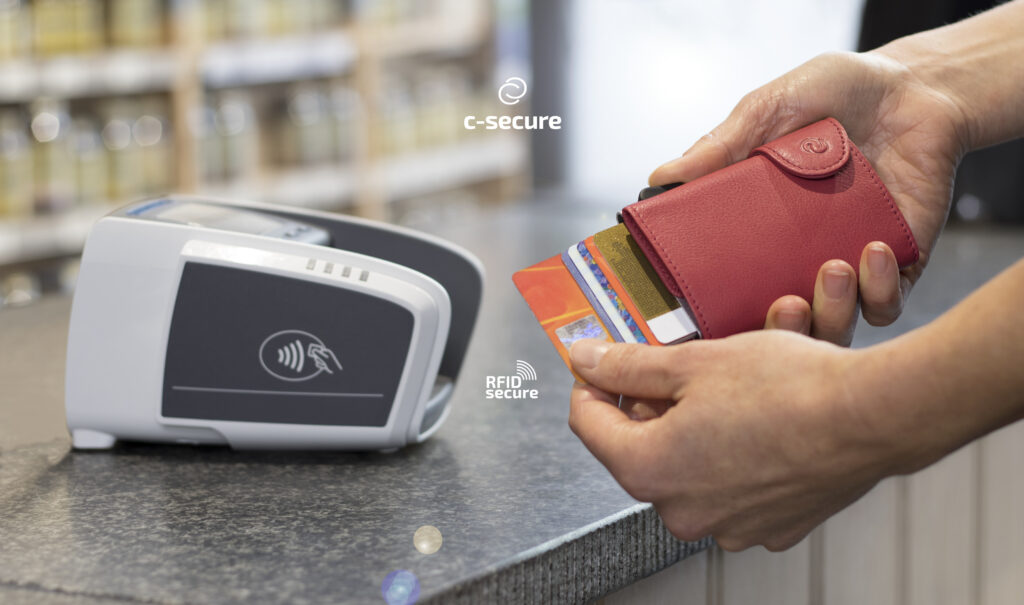 Since 2013
C-secure wallets protect your money!
The way in which we pay has changed significantly. Goodbye cash, hello cards. Today, the way we use cards to make virtual payments is fast, smooth and secure, but is it really that safe though? How safe are your debit, credit or ID cards when you pay in a shop or when you walk around town? Fact is that your RFID-cards are not protected against skimming. Any malicious person with a wireless reader can copy your data without you even noticing it if they can come close. According to digital security experts, it takes just seconds of distraction to get skimmed. What we need today is a wallet that is skimsafe and designed to last.
Skimsafe and stylish
If you are looking for a wallet that protects your money; look no further. All C-Secure wallets offer RFID protection. C-Secure use innovative technology that guards your cards against skimming. RFID stands for Radio Frequency Identification. The aluminium interior of our products blocks any radio waves so skimmers cannot get through to your cards. C-secure is the perfect solution when you are looking for a cardholder with RFID protection! 
Designed to last
A style for everyone: classic, vintage or funky
Since 2013, C-secure offers a wide range of smart, safe and stylishly designed cardholders and wallets, each of which is skimsafe and equipped with a patented mechanism that provides easy access to your cards. The cardholders are made of durable aluminium. The high-quality exterior of C-Secures wallets are of the finest Italian leather and processed under good working conditions and with care for the environment. The interior is a patented sliding mechanism that can hold 4 to 7 cards… C-Secures XL wallets hold up to 14 cards. They also offer wallets with room for coins and paper money.
C-Secures products are sold worldwide at international trade fairs, in airports, bookshops, leather and luxury goods shops, gift shops and more.
Comments are closed