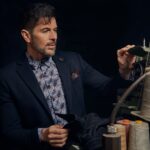 Pearly King has always strived to create a timeless, masculine collection. This time we are delving in to a time where true icons rode motorcycle and braved the wilderness! We here at Pearly King have become students of these old school pioneers, recreating pieces that embody their rebellious, carefree lifestyle.
Creating a wardrobe that will instil a brooding sense of confidence in any man, featuring luxurious leathers, robust tweed jackets and t-shirts that have survived a life time. The look is very wearable, easy but with an air of rustic elegance. Garments that have survived the rough trials of time to become heirlooms.
Proudly upholding the high standard of craftsmanship that Pearly King's heavy tailors have become known for. Collections feature subtle nuances of artisanal expression, horn buttons, hand stitching and leather trims.  This leads to the formation of a truly individual garment, a garment that not only serves a purpose but tells a story.
Comments are closed