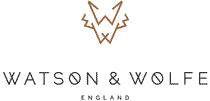 Watson & Wolfe specialise in beautiful unisex accessories, including wallets, purses, pouches, card holders and belts, all made from a high quality sustainable vegan leather. Their collections are made in a small boutique factory that has a long history of producing the highest quality accessories for luxury brands all over the world.
They use innovative, sustainable materials – for example their eco vegan leather contains more than 50% bio plant material, derived from non-food grade corn, which comes from a renewable source. This gives their leather a much lower CO2 footprint than a regular vegan leather. It is also completely free of Chromium and PPD.
Their wallet linings are strong and durable, but also look and feel beautiful. They are made using 100% recycled plastic bottles, which use 94% less water, 60% less energy and 32% less CO2 to manufacture than virgin polyester. They are manufactured in an eco-friendly process and meet Bluesign system standards. Their manufacturer has a number of environmental credentials, including the use of Green Power and an onsite treatment facility for all solvent and exhaust air.
Their gift packaging has also been carefully considered to reflect their ethos and brand values. Their boxes are 100% recycled and recyclable, printed using vegetable based inks.
Comments are closed